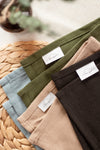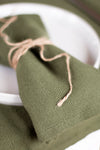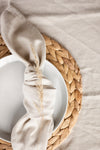 Cloth Napkin, Set of 4
Sale price
$11.00
Regular price
Shipping calculated at checkout.
While supplies last. Orders cannot be combined. Items will not be held in shopping cart. No price adjustments. Cannot be combined with any other discounts. Since our order volume will be significantly higher than usual, we are anticipating a delay in shipping times and appreciate your patience. ALL SALES FINAL.

Our set of 4 zero-waste Cloth Napkins are more plush than most and add an earthy elegance to family dinner. Using these incredibly soft napkins makes everyday meals feel indulgent and special. Our Cloth Napkins are dyed by hand and have a casual, laid-back aesthetic. With eight minimalist colours to choose from, there's one to style every occasion. 
43 x 43 cm. Machine wash in cold, hang to dry.
Because they are hand-loomed, natural variations may be found in the towels and some fading may occur, making each one unique and beautiful.
To quicken the absorbency and softness of this towel, we recommend plumping up the fibres by soaking in cold water overnight. Follow up with a cold wash and hang dry, and you're good to go!