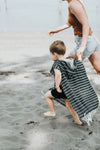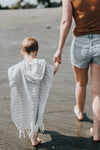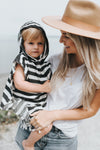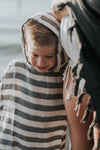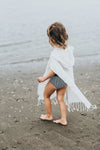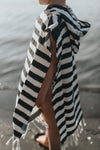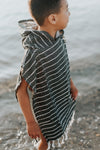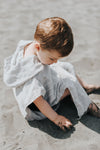 *LAST CHANCE* Bamboo Poncho
Sale price
$8.00
Regular price
Shipping calculated at checkout.
While supplies last. Orders cannot be combined. Items will not be held in shopping cart. No price adjustments. Cannot be combined with any other discounts. Since our order volume will be significantly higher than usual, we are anticipating a delay in shipping times and appreciate your patience. ALL SALES FINAL.
Beautifully hand-loomed by talented Turkish artisans, the Child Poncho Turkish Towel is a go-to for bath, pool or beach for children 1-6 years old. Made from a blend of quality Turkish cotton and bamboo, the unique weave dries quickly and is naturally antibacterial so it will never have that damp towel smell. Your child will feel cozy and dry faster, making this the only towel they will want to hang out in. These towels are incredibly absorbent yet lightweight, allowing them to be folded up and easy to pack for swim lessons, splash pad or travel. It repels sand and grass so just give it a shake and you won't be bringing the beach home with you. The more you wash this towel, the softer and more absorbent it will become.