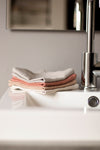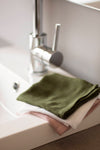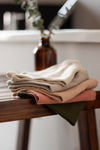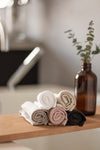 Wash Cloth
Sale price
$3.00
Regular price
Shipping calculated at checkout.
While supplies last. Orders cannot be combined. Items will not be held in shopping cart. No price adjustments. Cannot be combined with any other discounts. Since our order volume will be significantly higher than usual, we are anticipating a delay in shipping times and appreciate your patience. ALL SALES FINAL.

Our Wash Cloths are great for face, body or baby. Made from 100% Turkish cotton, the unique weave dries quickly and is naturally antibacterial so it will never have that damp towel smell. After use, hang to dry using the convenient loop. Subtly textured for a gentle scrub, this Wash Cloth is great for babies, children and those with skin sensitivities. The more you wash it, the softer and more absorbent it will become. Because they are hand-loomed, natural variations may be found in the Wash Cloths and some fading may occur, making each one unique and beautiful.
100% Turkish cotton
26 cm by 26 cm 
Machine wash on cold, hang to dry, scrub and repeat
Soak in cold water overnight before first use to allow the fibers to plump up and begin the natural softening process.