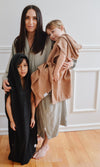 *LAST CHANCE* Poncho
Sale price
$12.00
Regular price
Shipping calculated at checkout.
While supplies last. Orders cannot be combined. Items will not be held in shopping cart. No price adjustments. Cannot be combined with any other discounts. Since our order volume will be significantly higher than usual, we are anticipating a delay in shipping times and appreciate your patience. ALL SALES FINAL.

Our popular Child Ponchos have been redesigned with your child in mind. This new style features tacked sides, a larger opening for the head, a generous hood, a hemmed bottom edge, and is now available in two sizes to accommodate both younger and older children. These towels are incredibly absorbent yet lightweight, allowing them to be folded up and easy to pack for swim lessons, splash pad or travel. Made from 100% Turkish cotton in our minimalist colour way, this unique weave dries quickly and is naturally antibacterial so it will never have that damp towel smell.

Size 1-6 years 48 X 60 cm
Size 7-12 years 55 x 82 cm
Machine wash in cold, hang to dry.
Because they are hand-loomed, natural variations may be found in the towels and some fading may occur, making each one unique and beautiful.
To quicken the absorbency and softness of this towel, we recommend plumping up the fibres by soaking in cold water overnight. Follow up with a cold wash and hang dry, and you're good to go!
||For every purchase from the Solstice collection, we will donate to the Blue Moon Foundation for Autism ||