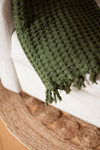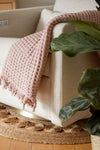 Waffle Blanket
Sale price
$23.00
Regular price
Shipping calculated at checkout.
While supplies last. Orders cannot be combined. Items will not be held in shopping cart. No price adjustments. Cannot be combined with any other discounts. Since our order volume will be significantly higher than usual, we are anticipating a delay in shipping times and appreciate your patience. ALL SALES FINAL.

Now one of your favourites from our collection, our exquisite waffle blankets add luxury and style to the home. We believe in the softness and durability of Turkish cotton and designed these blankets as heirloom pieces for the most important people in your life. The intricately styled waffle weave offers a visually stunning piece that is both comfortable and timeless.  An heirloom piece that will be enjoyed for a lifetime. This Piccola size makes a gorgeous throw or child's blanket and the Grande size is great for a few people to snuggle under, and even fits a king sized bed!
Because they are hand-loomed, natural variations can be found, making each one unique and beautiful. 
Piccola: 150 cm by 150 cm 
Grande: 240 cm by 220 cm
Machine wash on cold, hang to dry, enjoy and repeat